Moolenaar and Staff Recognized for Helping Roscommon County Veterans
This week, the Roscommon County Veterans Affairs Office honored Congressman John Moolenaar and his staff for the work they have done on behalf of Michigan veterans. The RCVAO recognized Moolenaar, as well as Constituent Relations Representative Marla Conover, with a special plaque for their work assisting Michigan veterans with the Veterans Administration.

"It is an honor to serve the veterans of the Fourth District, and I appreciate this special recognition from the Roscommon County Veterans Affairs Office for the work my team and I have done for veterans when they have issues with the federal government," said Congressman Moolenaar. "I hope veterans and their families who need help with the VA, or another federal agency, will contact my office for assistance."
"We are very grateful to Congressman Moolenaar and his staff for all of the work they have done to help veterans in Roscommon County," said Don Mraz, chairman of the Roscommon County Veterans Service Office Committee. "Congressman Moolenaar, and Marla Conover from his office, have always been very helpful, and they have done a lot for the veterans of Roscommon County, so we wanted to recognize their good work."

Any veteran in the Fourth District in need of assistance with a federal agency should contact the office of Congressman Moolenaar in Midland at (989) 631-2552.

The original file of this photo is attached to this release.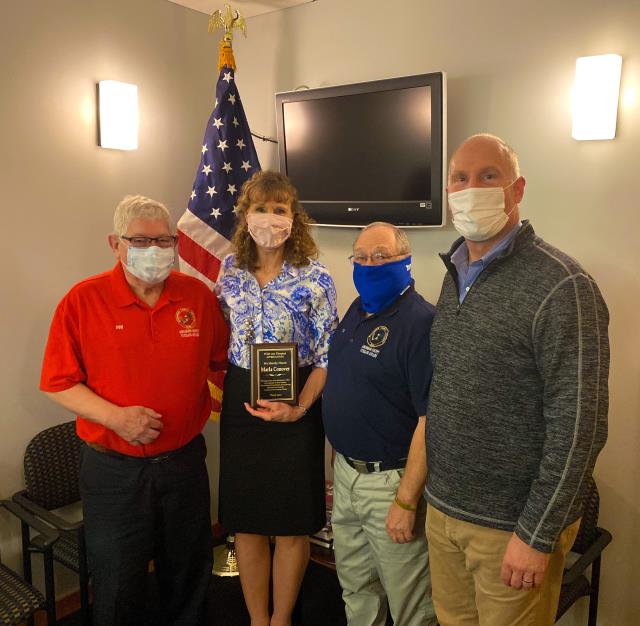 Congressman John Moolenaar (far right) and Constituent Relations Representative Marla Conover (second from left) meet with Chairman Don Mraz (far left) and Tom Sheppard (second from right) of the Roscommon Veterans Affairs Office on Monday, April 12, 2021.
###